Ramsey Nouah is one of the finest and talented Nollywood actors in Nigeria. He was born on December 19, 1970 in Edo, Nigeria.
In almost two decades of giving us fascinating movies back to back, that is the days we relied on video cassettes to have a feel of Nollywood.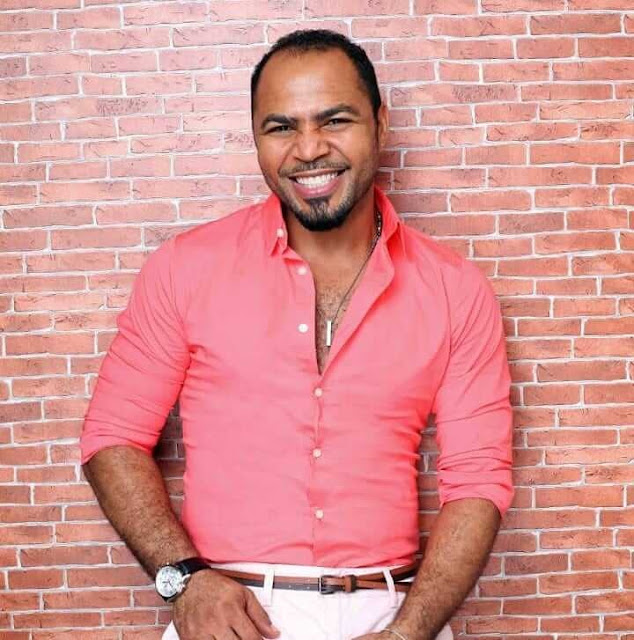 Ramsey is one of the many actors who has successfully maintained his career over the years. The romantic actor is married and blessed with three kids.
He got a push to venture into acting from a friend, while initially considering a career in music when he was 20 years old. He began auditioning for TV shows and at first try, he won the role of Jeff in the hit TV show, Fortunes, which ran from 1993 to 1994.
Already established as an actor, 1996 saw Ramsey Nouah making his major feature film debut in the heartily-embraced, "Silent Night", but before then, he had worked in a few Nigerian home videos which never made it out due to issues centring mostly around a lack of appropriate funds.
Who is Ramsey Nouah's wife?
Nigerian popular actor, filmmaker and director Ramsey Nouah and his wife, Emelia Phillips Nouah have been married for around 18 years now. The couple is blessed with three children – a son and two daughters.
Unlike many Nigerian celebrities, Ramsey Nouah has somehow managed to keep his marriage and personal life away from the media. He shares very little details of his wife and family in interviews and his wife, Emelia does not grant interviews herself.
Ramsey Nouah Has Been Married To Emelia Philips Since 2002
Nouah is a married man by all ramifications. He is married to Emelia Phillips-Nouah, whom he describes as the best companion and the best fit for him. The duo got married in 2002 and they are still very much in love. The couple has 3 children (two sons and a daughter).
Unlike The Actor, His Wife Is A Stranger To The Spotlight
Ramsey Nouah's wife has been the backbone of her family for several years. She has held things down in the homefront and prefers to stay away from the spotlight, unlike her husband who makes his living by being in the spotlight.
Moreover, Raising children isn't a task that can be taken with levity, so Emelia had to do the most for their children while they were growing up as her husband had his hands full, making waves in the movie industry. Even though she appears educated, it's unlikely that she had time to build a career as she has invested a lot of herself in her family. Emelia also has a husband who appreciates all her efforts in keeping the family running. He describes her as the 'power' of their house.
The Actor Believes His Wife Holds The Secret To Their Long Marriage
For a long time during Ramsey Nouah's active acting years, especially when it appeared that he featured in almost every Nollywood movie, many of his fans were not even aware that he was a married man. Even though he never denied this fact, he just never spoke about it, and this might have been intentional to sustain the attention of his female fans.
Moreover, while speaking in an interview, Ramsey disclosed that his marriage with his wife is still standing strong because of his wife. According to him, she doesn't have the perception that marriage depends solely on a man. He said his wife belongs to the olden days' women category who believes that a woman must be in charge of the home and take many responsibilities and sacrifices.
Asides from all that, Nouah believes the main reason their marriage is still standing and waxing strong is that they avoid the public eye. He believes that the media and public have a way of ruining relationships and marriages, and theirs has survived because they have mostly kept their family business private.
The Allegation That Almost Ruined His Marriage
Marriage is hard work and no couple is without their own challenges. Despite keeping their relationship away from the media, being a celebrity is enough to put their marriage and relationship to the test. Ramsey Nouah once shared a harrowing experience which one might describe as a stalker situation. He revealed that a woman came from Benin to his house in Lagos, claiming to be his rightfully wedded wife and almost ruined his marriage.
In an interview with PUNCH, the actor shared that the embarrassing experience caught him off guard as the woman met his wife and mother-in-law while he was working on set. They had difficulty getting her to go until he eventually gave her some money and sent her on her way. This is definitely one of the downsides of being a celebrity.
Ramsey And Emelia Are Parents To 3 Children
In the course of their marriage, Ramsey and his wife have welcomed 3 children. They have two sons and a daughter – Quincy, Camil, and Desiree Nouah. From a red carpet event they attended with their father in 2020, it is obvious they are all grown up now.
Nothing much is known about their education and career path as the actor and his wife are very protective of their children's privacy. When asked if he intends to make his children toe his career path, Ramsey revealed that he will do no such thing; he plans to train them in whatever they are comfortable and excel at doing.
Ramsey Nouah's Successful Acting Career Left Him With Little Family Time
For someone who veered into acting by chance, Ramsey has come a long way in the movie industry. According to him, he started acting at first to make money to pay for his GCE exam, but the experience he gathered at the time actually helped him to gain a balance in his acting profession.
Ramsey's acting career started when he starred in "Fortunes," a Nigerian TV soap opera when he was only 23. He has since featured in several films in the lead role. Because of his knack and affinity for featuring in romantic films, he was dubbed "Lover-Boy."