All About Davido Bio, Wikipedia, Age, Net Worth, Birthday, Family, Married, Wedding Pictures, Wife, Girlfriend, Marriage, Siblings, Height, House, Cars, Parents, Father, Mother, Sister, Brother, Child, Daughters, Son, State Of Origin, Private Jet, Relationship, Chioma Breakup, Divorce, Cheating, Phone Number, Songs, Real Name, Davido New Images, Photos, Pictures, Ig Pics, Latest Instagram Photos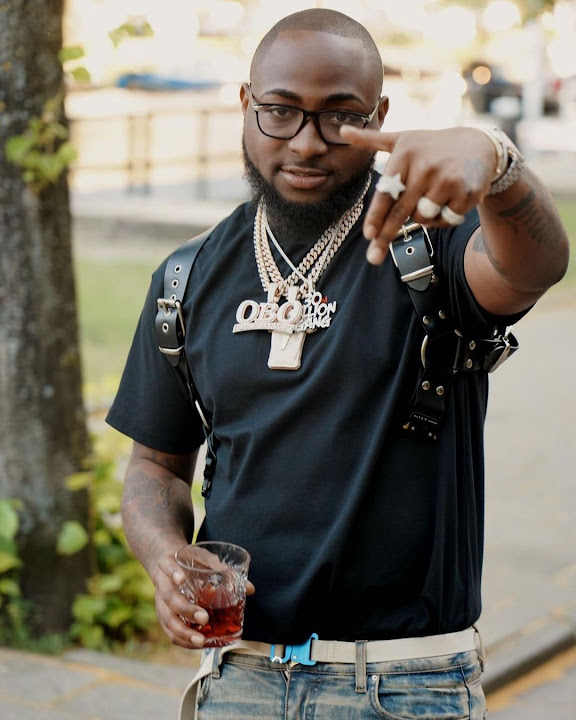 David 'Davido' Adeleke popularly known as Omo Baba Olowo "OBO" is a multiple-award-winning Nigerian singer and founder of record label David I Music worldwide (DMW)
David Adedeji Adeleke was born in Atlanta, Georgia in the United States on November 21, 1992 and was raised in Lagos, Nigeria. And he is better known on stage as 'Davido', He is an American-born Nigerian singer, songwriter and record producer.
Davido is the son of Nigerian billionaire businessman Adedeji Adeleke while his mother, Late Mrs. Veronica Adeleke was a University lecturer before her demise.
Davido attended his secondary school at British International School In Lagos, before he proceed to Oakwood University to study Business Administration but was short-lived as the singer dropped out and returned to Nigeria to pursue his music career.
He got admitted into Babcock University to study Music, a department his father helped set up.
Davido's uncle, Isiaka Adeleke was the first Governor of Osun State and two-time Nigerian Senator
Davido's HKN mates, B Red and Sina Rambo as well as Adenike Adeleke, are his cousins being children of his uncle, Senator Isiaka Adeleke
As a teenager, he started his music as a "backup" for rising rapper Sina Rambo. He then started a group with B-Red and Rambo called KB International.
Davido's debut single, 'Back When' which features Naeto C was well received and established him as an act to watch out for. Davido was also allegedly to have paid Naeto C a sum of N1m to feature on the song. The song was recorded in London.
Davido's first manager was "Asa Asika" is the cousin of Naeto C and Storm 360 boss, Obi Asika.
Davido's Assurance was released on the 30th of April, 2018 in which he featured chioma in the music video. Davido dropped the song to celebrate his lover, Chioma, on her birthday and it was also rumoured that Davido gift Chioma car worth the sum of 45 million Naira attached with the song to make Chioma's birthday a glorious one.
In 2012 Davido bought a house worth N140 million in Lekki Phase 1 at the age of 20
The details of Davido's finances are not easily accessible, but the leader of the 30 Billion Gang is worth a reported whopping $18 million dollars.
The Nigerian music star now has over 16 million followers on Instagram, making him the first Nigerian artist to have such a high social media following. He also have over 6 million followers on twitter.
Davido welcomed his first daughter, Imade, with Sophie Momodu in May 2015.
Sophie is a niece of popular journalist, Dele Momodu.
In May 2017, The Nigerian artiste, Davido announce the arrival of his second daughter, Hailey, with his American girlfriend, Amanda. who he had a brief relationship with.
On September 2nd 2019. Davido did the introduction of his fiancé, Chioma Rowland.
On September 12 2019 Davido Propose to his fiancé, chioma and she said "Yes"
On October 20th 2019 Davido welcomed his first son with Chioma, Who he named David Adedeji Ifeanyi Adeleke Junior (Jnr) with his fiancé, Chioma.
On Friday, March 27, 2020, Nigeria music star David Adeleke, AKA Davido, took to his Instagram page to announce that his partner had tested positive for coronavirus after she came back from London.
On Sunday, April 19, 2020, Davido took to his twitter page to announce that his fiancé, Chioma has tested negative twice for Coronavirus.
More Real Facts About Davido You Probably Didn't Know
Davido Family Background, Parents, Father, Mother, Siblings:
Davido is from a family of 7, consisting of his parents Mr and Mrs Adedeji Adeleke and 5 children. Davido is the last born child of his family and his billionaire father's third son with two elder brothers. One of his brothers is called Adewale Adeleke and two elder sisters.
Who Is Adedeji Adeleke?
Adedeji Adeleke (born 6 March 1957) is a Nigerian billionaire businessman and founder, owner of Adeleke University.
Adedeji Adeleke is a wealthy man from Osun State, Nigeria and also the CEO of Pacific Holdings Limited. He is the father of Adewale Adeleke, Davido, and Sharon Adeleke. Adedeji Adeleke was married to Dr Veronica Adeleke who died on 6 March 2003.
Mother:
Who is Davido mother? Davido mother name is Dr Veronica Adeleke. She was from Benin in Edo State and she was a university lecturer. Davido's mother, Vero Adeleke is late, she died on 6th of March 2003.
When did Veronica Adeleke die? 
Davido's mother, Veronica Adeleke died on 6 March 2003.
How Davido Mother, Veronica Adeleke Died & What Killed Her
Veronica Adeleke, Davido's mother died of Cardiac arrest on his father's birthday in March 2003.
How old was Davido When His Mother Died?
Davido was about 10 or 11 years old when his mother died.
Davido while speaking about his mother's death told Ebuka Obi Uchendu:
"I was about 10 to 11 years old when she died. She died on my father's birthday. Honestly, it was just cardiac arrest. Even if it was going to happen, I would not have known because I was about 10 or 11 years old. She was not really sick. She used to get sick once in a while but it was nothing serious."
"One thing I always wish for is that she should have been alive. I would have bought her a lot of diamonds and houses but she knew that I was going to be great. Every Sunday, there was always a party. My mother was from Benin. I think I am more like my mother; I inherited her agility. She helped so many people that to date, I go to some places and people would tell me what my mother did for them."
"Before my mother died, I was a mummy's boy because my father was always busy. He was working and always travelling to places like China. I was a mummy's boy; so, imagine her just being taken from me, my best friend, the only person in the world I loved being taken from me without caution,". Davido said.
Davido Siblings:
Davido has 4 Siblings, 2 elder brothers and 2 elder sisters. Davido Siblings names are Adewale Adeleke, Sharon Adeleke- Ademefun, Ashley Coco Adeleke- Adaji.
Brother:
Who is Davido brother? Davido elder brother name is Adewale Adeleke. He is married to Ekanem Kani and they have a child together.
Davido has two elder brothers. He is the last son and child of his family.
Sister:
Davido has 2 sisters. The names Davido's elder Sisters are Sharon Adeleke- Ademefun, Ashley Coco Adeleke- Adaji.
About Sharon Adeleke, Davido's Sister:
Sharon Adeleke- Ademefun is Davido elder sister who is married to her husband, Mr Ademefun. She is the CEO of Rona Wigs studio, a business that deals on making hairpieces and hair extensions.
About Ashley Coco Adeleke, Davido Sister:
Mrs. Ashley Coco Adeleke-Adaji (Adaji is her husband's name) is also an executive director in Pacific Holdings. She also oversees the Human Resources department of the company.
Wife:
Who is Davido wife, name, pictures? Davido wife name is Chioma Avril Rowland. She is 26 years old from Owerri, Imo State. Though Davido and his wife didn't do wedding but they did marriage Introduction at his wife, Chioma's family house in Owerri, Imo State in 2019. Davido and his wife, Chioma have a child, a son together. Davido has on several occasions addressed Chioma Avril Rowland as his wife.
Married, Marriage, Wedding Pictures:
Is Davido married? Davido got married to Chioma Avril Rowland in 2019 when they did their wedding Introduction but Davido never paid Chioma's bride Price because she was pregnant.
Wedding, Marriage Introduction:
Davido and Chioma did their marriage Introduction in ​September 2019.  Sharing pictures from his marriage Introduction on his Instagram page in September 2019, Davido wrote:
Did Davido Pay Chioma's Bride Price?
No, Davido did not pay Chioma's bride Price. They only did Introduction.
About Davido and Chioma Traditional & White Wedding Plan:
Davido and Chioma were set to do their Traditional wedding ceremony in July 2020 imo state and their white wedding in Dubai but Coronavirus pandemic messed up their wedding plans.
How Did Davido And Chioma Meet?
Davido met Chioma through Lati. Lati introduced Davido to Chioma in 2013. Davido and Chioma were schoolmates in Babcock University.
Speaking on how he met Chioma Avril Rowland, Davido told Ebuka in a 2020 Interview:
"I have known Chioma for about seven years. We have been dating for about five years. Lati introduced me to Chioma. We went to the same school, Babcock University. We started as friends but I got so used to her and she got so used to me as well. She is a great cook as well."
"I often say that I see my mother in Chioma. I did not grow up with my mother. I can hardly remember what happened when I was that young."
Divorce, Davido And Chioma Breakup Story:
Davido and Chioma did not divorce because they were not legally married but they only breakup as they are no more together.
Children:
Davido Has 3 children he recognizes. Davido has 2 Daughters and 1 son. The names of Davido's children are Children: Aurora Imade Adeleke, Hailey Veronica Adeleke, David Adedeji Adeleke Jr.
Davido First Child, Daughter: 
The name of Davido's first child & 1st Daughter is Aurora Imade Adeleke and her mother is Sophia Momodu.
Second Child, Daughter:
The name of Davido's second child & Daughter is Hailey Veronica and her mother is Amanda.
Son:
The name of Davido first son and third child is Ifeanyi David Adedeji Adeleke Jr. and his mother is Chioma Avril Rowland.
Announcing the birth of his first son, Ifeanyi Adeleke, Davido wrote on Instagram in 2019:
"OMOBA TI DE!!! DAVID ADEDEJI IFEANYI ADELEKE Jr I !! D PRINCE IS HERE!!!! 20 – 10 – 2019 !!! Love you my STRONG WIFE!!! @thechefchi I LOVE YOU!!!!! ❤️?"
Girlfriend:
Who is Davido Girlfriend, name, Age, Pictures? Davido current Girlfriend in 2021 is Mya Yafai. She is an American and 23 years old as at 2021. Davido and Mya Yafai started dating in 2021 and she is one of the reasons he broke up with Chioma.
Davido Dating, Relationship:
Davido has dated so many ladies and slept with numerous girls. Some of the people Davido has dated and slept with are, Chioma, Sophia Momodu, Amanda, Larissa London, Ayotomide Labinjo, Faith Nketsi, among others.
Davido Engagement, Engaged, Marriage Proposal, Fiancee:
Is Davido engaged? Yes, Davido was engaged to be married to Chioma in 2019 after years of dating. Davido had knelt down to propose to Chioma in 2019 and she said YES.
Davido Net Worth:
How much is Davido worth? Davido net worth is about $11,000,000 US Dollars (Eleven million US Dollars) in 2020, 2021.
Davido Net Worth In Naira:
Davido net worth in Naira is about ₦5,000,000,000 in 2021 (five Billion Naira).
House and Cars:
Davido has Flashy Cars in his garage and reportedly has houses, Mansions in Lagos, Nigeria, UK, US, London.
Davido Private Jet:
Davido claimed he owns a private jet that costs billions of Naira but it later Turned out to be a hoax as the said private jet was his father, Adedeji Adeleke's private jet. After he was busted, Davido said, his father's property is his own too, so his father's private jet is his.